It used to be the case that in order to take a PADI Course during your holiday, you would have to spend your evenings working your way through the study materials. Not a great use of your precious time away from home…
Learning to dive has never been more convenient!
PADI have created two different solutions to this problem: 'eLearning' and 'Touch'.
PADI eLearning
PADI eLearning is a virtual classroom – Once you sign up you will be able to access the study materials for your chosen course so that you can work through the Knowledge Development portion of the course in your own time, anywhere where you have access to a high speed internet connection.
The course content will be read out to you, and you will complete the Knowledge Reviews and Final exam as you go along.  Once you have completed all of the independent study  you will be presented with an eRecord documenting your progress. With the theory all completed from home you will only have to practical elements of the course left to complete with your Instructor.
PADI Touch
PADI Touch an interactive manual – it is downloaded to your device, and you work through it in much the same way as you would with a paper manual.  You do not need to be connected to the internet to use Touch (although you do need an internet connection to download it initially, of course).  Touch also includes the videos which would traditionally have been viewed in the dive centre.
The knowledge reviews can be completed through Touch if you do connect to the internet, otherwise they can be completed at the dive centre. The final exam must be completed at the dive centre. The Touch manual will always be accessible for review in the future, and will automatically be updated as the course content gets renewed.
You can download Touch through the PADI Library app, which is available in the Apple Store or Google Play.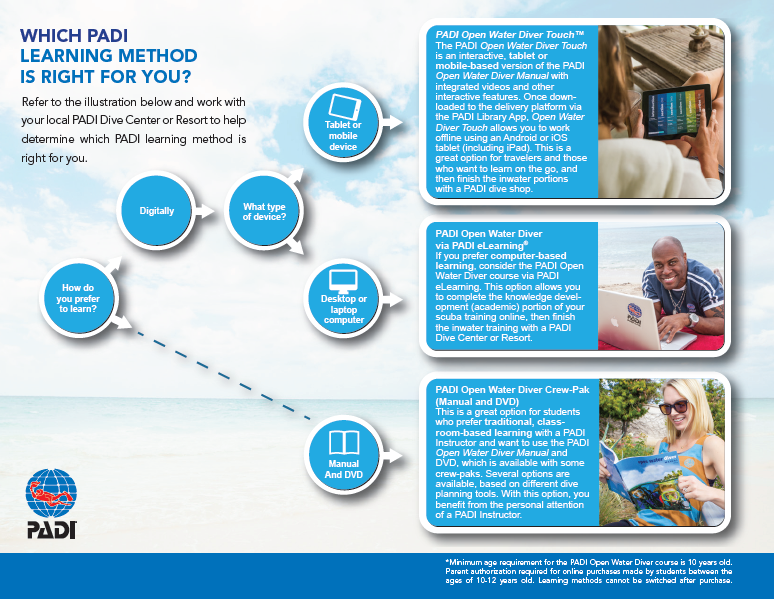 Is this really a better way to study?
It is the opinion of all of the instructors here at Aqua-Marina that students who have completed eLearning or Touch are much better prepared for the course and tend to encounter less challenges once they come to enter the water.
Furthermore, learning to dive involves absorbing a lot of new information. Starting this before your holiday means that you not only have more time to digest the material, but that you are not trying to do so whilst you should be enjoying your time away from home!
Which courses can I take with eLearning or Touch?
At Aqua-Marina we are pleased to offer you access to eLearning for a variety of PADI Courses, including Open Water, Advanced Open Water, Rescue Diver, Enriched Air Diver and Divemaster.
Unfortunately, PADI have not yet finished developing these products in every language, so if you would prefer to study in a language other than English, please contact us in order to find out if your preferred language is available.