PADI IDC Tenerife with Aqua-Marina
Taking your Instructor Development Course with Aqua-Marina in Tenerife is one of the most stress-free ways to complete the important journey to PADI Open Water Scuba Instructor
Naturally, the IDC itself is just as demanding wherever you are, but here in Tenerife you can get away from the distractions and demands of normal work and home life and focus and immerse yourself fully in your professional training
The dedicated team at Aqua-Marina is committed to helping you achieve your maximum potential during this important stage of your career, starting with an optional preparation course, which we recommend if it has been some time since your Divemaster training and/or you have not been diving regularly.
Prices, Materials & Schedule
Prices, Materials & Schedule
Required Materials
IDC CrewPack, including Specialty Guides: 448.00€
EFRI Guide, Primary and Secondary Care, with binder: 85.50€
Course
Aqua-Marina fee
PADI Fee
European Resident

PADI Fee
UK Resident *
Jan / Feb
May
Nov / Dec
IDC Prep
€ 200
–
–
23 - 24 Jan
14 - 15 May
18 - 19 Nov
EFR Instructor
€ 200
€ 97
£ 95.40
25 Jan
16 May
20 Nov
IDC
€ 800
€ 156
£ 154.80
26 Jan - 03 Feb
17 - 25 May
21 - 29 Nov
Instructor Examination
–
€ 543

€ 543
4 - 5 Feb
26 - 27 May
30 Nov - 01 Dec
MSDT Prep
(Deep, EAN, O2 Provider, Wreck, Drift)
€ 250
€ 36 each
£ 171
6 - 7 Feb
28 - 29 May
02 - 03 Dec
Special Offer on Aqua-Marina fees
IDC Prep + IDC + EFRI + MSDT = 1350€ (save 120€)
IDC + EFRI + MSDT = 1195€ (save 80€)
Early Booking Discount on Aqua-Marina fees
In addition to the above offer, book 2 months or more before the first day of the IDC and receive a 10% discount!
IDC theory with eLearning
You can complete the theory part of the IDC by signing up for e-learning on the PADI website.  We recommend that candidates choosing this route still join the full IDC but you would pay reduced fees to Aqua-Marina
Preparation for the IDC
Pre-requisites
In order to enroll on the Instructor Development Course you must:
Be at least 18 years old
Have been a certified diver for at least 6 months
Have at least 60 logged dives for the IDC or 100 logged dives for the Instructor Exam
Have PADI DiveMaster certification or equivalent*
Have medical clearance signed by a physician (not the applicant) within the last 12 months
Be an Emergency First Response Instructor (most candidates will not have this, so training is included in the IDC – see During the IDC)
Have paid the current registration fee and examination fee to PADI Europe (see Prices for details)
*Please contact us if you have trained with another organisation and wish to make the crossover to PADI, so that we can advise your entry level
Materials for the IDC
Study materials:
All of the study materials that you need are conveniently packaged in the IDC crewpack
Kit:
Most candidates prefer to use their own dive kit but if you do not wish to travel with yours we can rent it to you for € 25 per day.  Kit must include a lamp, knife, 2 blank underwater slates and a watch or dive computer
Classroom:
Candidates should bring their own laptop computer or tablet to be able to make use of digital training materials.  Power points are available at every desk, and internet access is free
Instructor Development Course (IDC)
The IDC can be divided into two sections:
IDC Part I – Assistant Instructor (AI) – minimum 2 days
It is possible to just take this part of the course together with Part I of the Instructor Exam.  Part II can be taken at a later date after gaining some hands on experience.  As an Assistant Instructor you may assume limited teaching responsibilities including the Snorkeling and Discover Scuba Experience programmes and Project Aware and Peak Performance Buoyancy Specialties, Confined Water training and Open Water training presentations
The academic and practical training in Part I of the IDC covers the above skills, which you will have prepared for before the start of the IDC by completing the relevant sections of Knowledge Development in the Guide to Teaching.  Finally these skills and knowledge are tested in Part I of the Instructor Exam which includes Confined Water and Open Water teaching presentations, a written exam and a dive rescue skills assessment
IDC Part II – Open Water Scuba Instructor (OWSI) – minimum 3 days
Using a mixture of classroom based teaching and confined water practical sessions you will learn how to apply the PADI System of Education, making at least:
2 confined water teaching presentations
2 knowledge development presentations
1 open water teaching presentation, integrating 2 skills
You will also attend and participate in a number of other presentations including dive industry overview; PADI's general standards and procedures; the role of media and prescriptive teaching; legal responsibility and risk management; adaptive teaching; the PADI continuing education philosophy; diver retention programmes; how to teach the recreational dive planner and PADI courses from Scuba Diver to DiveMaster plus Specialty courses and Master Scuba Diver
You must perform 20 dive skills and a face-down non-stop swim for 800 metres using mask, snorkel and fins.  Your dive theory will be tested using a 5-part exam for which the minimum score is 75%
As a successful Open Water Scuba Instructor, you will be able to teach the entire range of PADI programmes and courses from Discover Scuba to DiveMaster together with Specialty courses in accordance with your training and experience
Emergency First Response Instructor (EFRI)
Emergency First Response Instructor (EFRI) – 1 day
You will gain Instructor status for EFR – an internationally recognised certification in first aid and secondary care which is useful not just to divers but also to those responsible in many workplaces and in the home, which means that you can teach these skills to anyone
In this course you will learn how to structure learning, use performance-based training and understand your role as the instructor.  Special techniques and considerations for administering first aid and secondary care to children are also covered, as is training in the use of AED equipment
Pre-requisites for EFRI
In order to complete Emergency First Response Instructor training you must have a current (less than 2 years old) EFR provider certification, including AED.  Don't worry if you don't have this – it can be undertaken at Aqua-Marina just before your IDC begins
Materials for the EFRI
You will need the EFR Primary and Secondary Care Instructor Guide.  You should complete the knowledge development pages before you arrive for the EFRI course
After the IDC...
After IDC
First the IE.  Then the party.  Then…
If it's good news, congratulations!  Now there is another option:
If you have time to stick around then any courses that are booked with us from Scuba Diver to Rescue Diver can be yours to teach.  One of our Instructors will supervise but the name on the card will be yours!  This fantastic experience will help you to quickly gain confidence and demonstrate to future employers that you have worked with a top dive centre renowned for quality
Suppose it's bad news?
Well, it's not all bad, for 2 reasons:
You can re-sit just the modules you failed if you do so within a year of the exam; you don't have to do the IDC again unless you feel you need to do so
If option 1 doesn't work for you, as long as you were successful at Part I you are qualified as an Assistant Instructor and can upgrade to OWSI at your convenience
 What Can You Teach?
Please refer to the following schematic to find out what each qualification allows you to teach: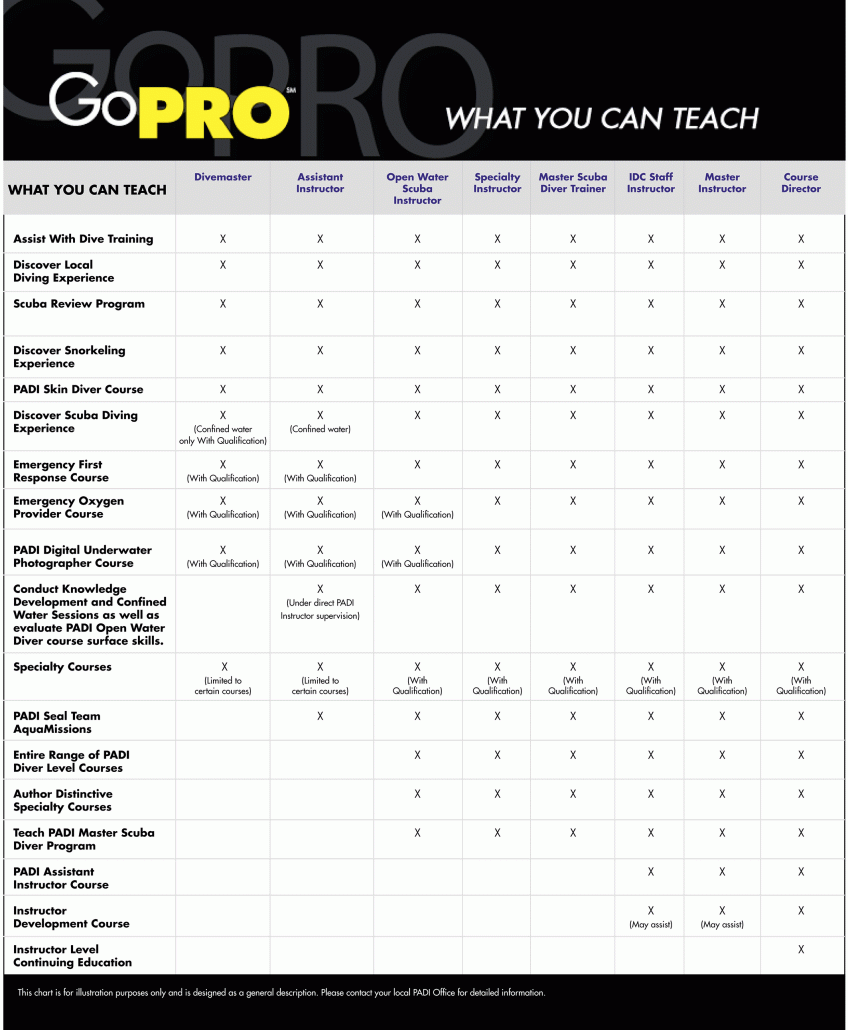 IDC Staff Instructor
To upgrade from Master Scuba Diver Trainer to IDC Staff Instructor, candidates must meet the following performance requirements:
Demonstrate acceptable performance on the Instructor Dive Theory Exam by scoring 100% initially or scoring 80% or higher on each section and having each missed items reviewed until mastery is achieved. A score of less than 80% requires a re-test
Demonstrate acceptable performance on the Assistant Instructor Standards Exam by scoring 100% initially or scoring 80% or higher and having each missed item reviewed until mastery is achieved. A score of less than 80% requires a re-test
Score 80 points or higher (average 4.0 per skill) by demonstrating the 20 skills listed on the PADI Skill Evaluation with no skill demonstration scoring less than 3.0
Score a 4.0 or higher on a knowledge development teaching presentation
Score a 4.0 or higher on a confined water teaching presentation
Attend the Knowledge Development sessions
Demonstrate consistency in teaching presentation evaluation scoring and meeting the following parameters:
Match the control score on at least four knowledge development evaluation criteria sections for two teaching presentations
Match the control score on at least three confined water evaluation criteria sections for two teaching presentations
Match the control score on at least three open water evaluation criteria sections for two teaching Presentations
Audit a complete IDC by observing all 20 required IDC curriculum presentation sections
Reservations and Enquiries
In order to make a reservation or an enquiry with us, please either;
email: info@aqua-marina.com
Phone, SMS or WhatsApp: (+34) 678 662 670
or send a message through Facebook