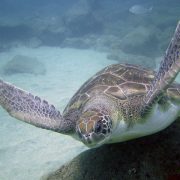 Green turtles
(Chelonia mydas)
This is the most common of the 5 different species of turtle which frequent the waters around Tenerife.  Green turtles can grow to over 1 metre in length and can weigh up to 200 Kg.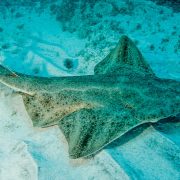 Angel Shark
(Squatina squatina)
The shark we see most often when diving; the Angel shark is an ambush predator, lying motionless half-buried in the sand waiting for prey to swim close enough for a sneak attack.
Globally this is a species under significant threat, but luckily here in Tenerife the population is such that sightings are quite common – primarily during the winter months.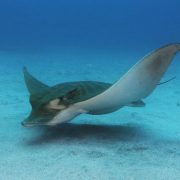 Bull rays
(Pteromylaeus bovines)
At first glance this stingray looks very similar to an Eagle ray, although it can grow to over 150 cm across, and has tiger-like marking across its back.
It is usually spotted swimming a few metres above the sand.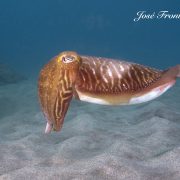 Cuttlefish
(Sepia officinalis)
We are lucky that these fascinating creatures are abundant in our waters.
Like their cousin – the octopus – cuttlefish are masters of disguise, able to change their colour and texture immediately to match their surroundings.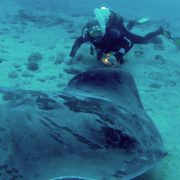 Round (Atlantic) Stingrays
(Taeniura grabata)
An impressive sight to behold, these round stingrays can grow well over 1 metre across.  During their mating season it is not uncommon to see them in groups of ten or more, often piled on top of each other.
They are not at all afraid of divers and often come nice and close to check us out and pose for photos.
Tenerife Diving Sites
Boat Diving
Our boat is moored in Los Cristianos harbour, only around 5 minutes from the dive centre.  This proximity means shorter journey times to dive sites than is common on the island.  The vast majority of the time we dive from our boat, and have a wide selection of incredible dive sites which we can access this way.  We always return to land after each dive, so it is no problem to make only one dive if you wish.
Shore Diving
As mentioned before, the majority of the time we use our boat for all diving activities – however, occasionally we do plan a day of shore diving in order to access a wider variety of dive sites, and to provide a slight variation for those who have seen all the regular spots before!
Please note that due to the distances involved, when shore diving we always make two dives without returning to the dive centre in between – therefore if you wish to see these sites then you will be committing to making two dives.
Start: 09:00 / Finish: 15:00 +/-
Diving for Groups
If you are part of a dive club or are trying to organise a trip for a group of friends, or even a large family then you cannot do much better than Tenerife! Not only is the diving fantastic, but there is so much to do on land that you'll never want for entertainment, bars and restaurants in the evenings. Furthermore, any non-divers in the group can keep themselves busy with an almost endless list of activities and tours which are available around the island while you are out diving!
We love to accommodate groups – always so much fun to have around.  We will provide you with free transfers to and from the dive centre each day and will create a special schedule for your dives so that you get to see a good cross-section of the dive sites available.  Generally we even lay on extra boat trips while we have groups diving with us so that the group can have their own boat and not have to mix with other divers who we have out with us that week.  At the end of the day of diving we bring you back to the dive centre where you can sun yourselves whilst enjoying a beer (or a soft drink) and filling out your log-books.
We offer very attractive rates for groups – details below – but we can do more than just take you diving… We can organise your accommodation for you as well as tickets for the extensive range of excursions, activities, tours and nights out so you have something different to do during any non-diving days; or something to appeal to non-diving friends and family members in the group.
| Total Dives | Price Per Dive |
| --- | --- |
| 50 - 74 | € 26 |
| 75 - 99 | € 24 |
| 100 + | € 22 |
We are always happy to accommodate groups for diving trips, and offer very competitive rates making us the first choice for your dive club! The prices are based on the total number of dives made by the entire group.
We also offer a 33% discount on dive kit rental to dive groups.