Qualifying as a PADI Divemaster involves the following:
Dive leader exercises develop candidates' skills in dive planning, leadership and proper response to common underwater problems
All standard open water skills are improved to demonstration quality
Instructor level academic knowledge is developed and tested
Underwater mapping hones navigation and orientation skills
Rescue skills are revised
Watermanship and stamina are evaluated
Underwater equipment exchange tests problem solving abilities and your ability to stay cool under pressure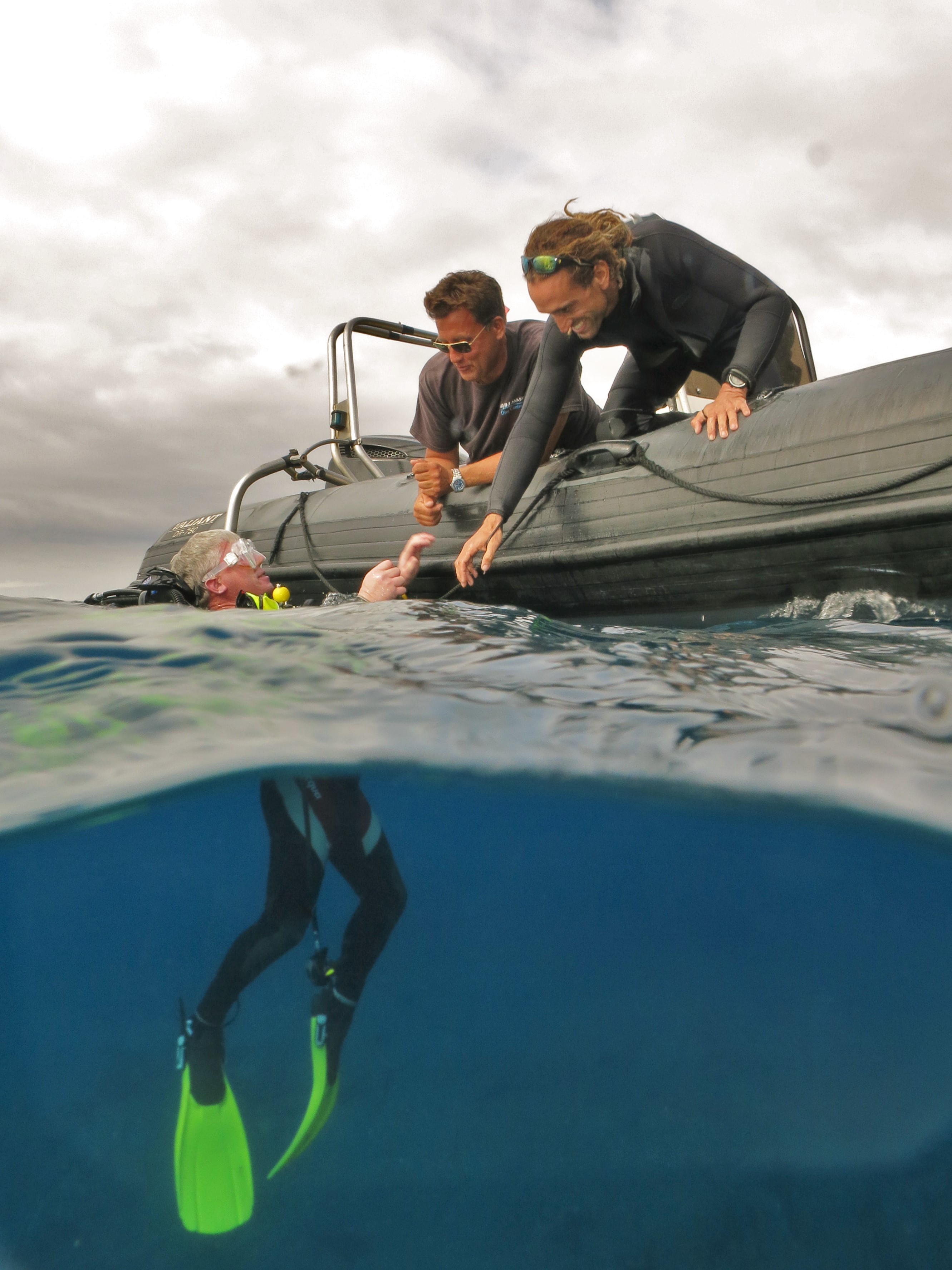 Divemaster Internship Pre-requisites
Candidate must be at least 18 years old
Certified as a Rescue Diver or equivalent
40+ logged dives to commence, and a minimum of 60 prior to certification
Current diving medical certificate (in last 12 months)
Proof of CPR and First Aid training prior to certification (in last 24 months)
A strong work ethic and a willingness to commit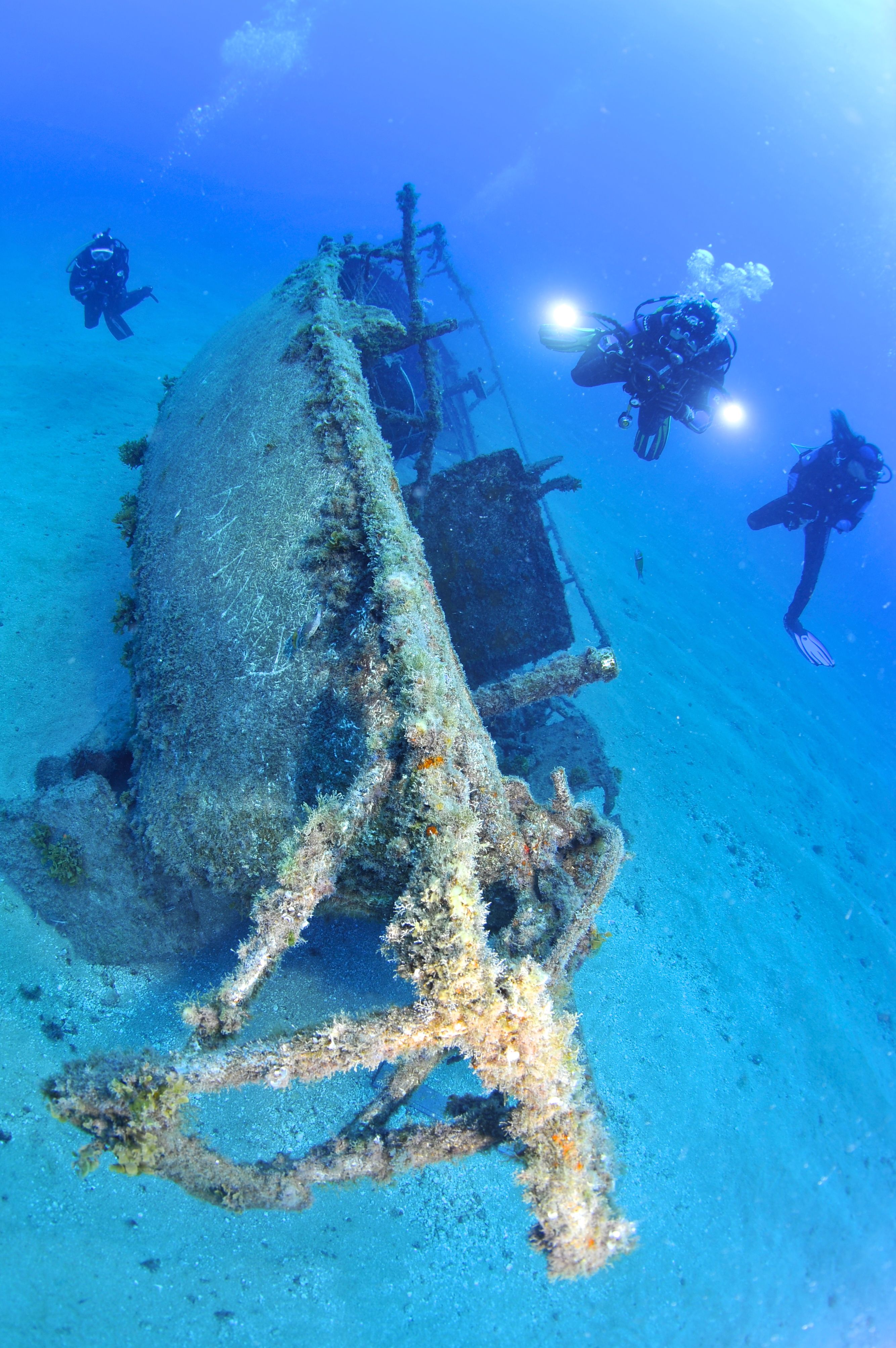 Divemaster Internships at Aqua-Marina
Divemaster training
The PADI Divemaster Course can be completed in around 8 to 10 days. Naturally, during your internship you will cover all of this training with your Instructor.  Some days will be dedicated to training, while other days you will be evaluated on your performance whilst assisting our Instructors in catering for our guests.
You will find that during your Internship your Instructor will take on a role more akin to a mentor – where they don't simply tell you how to do something (as may have been the case during previous dive courses) rather, they will encourage you to think for yourself to decide the best course of action.
Responsibility
The underwater world is fascinating and beautiful – a place full of wonder – but it is also a harsh and unforgiving environment.  To lead a group of divers in the water is to assume responsibility for their safety as well as their enjoyment.  Communication can be difficult; problems will arise; some guests will experience fear or stress and how you respond can make the difference between a positive outcome and an emergency situation.
Experience
You will be diving from our boat exploring a range of dive sites every day – most often you will be a back-up guide; learning the dive sites and managing the flow of guests both in and out of the water.  As you gain experience in this you will gradually be given more responsibility until you have demonstrated that you are ready to take the lead, at which point your Instructor will act as your assistant.
Furthermore, we are a very busy PADI Training facility, meaning that you will gain experience in the complete range of PADI programmes and you will do this alongside several different PADI Instructors, enabling you to learn different methods and preferences from each.
The role of a dive professional does not finish when everybody surfaces after the dive – we will instill in you the value of good customer service, and this is not over until the last guest walks out of the door.
No two days at the dive centre are the same.  During your internship, problem-solving and solution-thinking skills will be tested on a daily basis as we adapt to the specific logistical challenges of the day.
Unfortunately, anecdotes abound of Divemaster Interns spending their days mopping the floor and cleaning the windows.  We have a cleaning lady who does that!  Day to day you'll help us to keep the dive centre tidy so that our guests form a strong first impression, but primarily your work will be focused on the diving!
Commitment
Make no mistake – you will be working hard! Whilst completing your internship your role will be much closer to that of our staff than of our customers. This means you will be meeting and greeting guests as they arrive, providing welcome briefings and answering any questions they may have.  You will assist our staff in controlling the flow of people and equipment to ensure the smooth operation throughout the day.
You will be expected to assist in all aspects of the daily operation of the dive centre in just the same way that our other staff are – after all that is what this job involves! Working in the dive industry is incredibly rewarding and has innumerable perks, but it is not for the feint of heart. If you are not ready to commit to that then consider a different profession.
Our aim is not to simply put you through the formal PADI training, but to ensure you understand how this training is applied to the working world once you have finished your internship.  The experience you will gain from diving every day in a variety of dive sites, providing different activities tailored to specific guests, is the very best preparation you will find for working in the diving industry.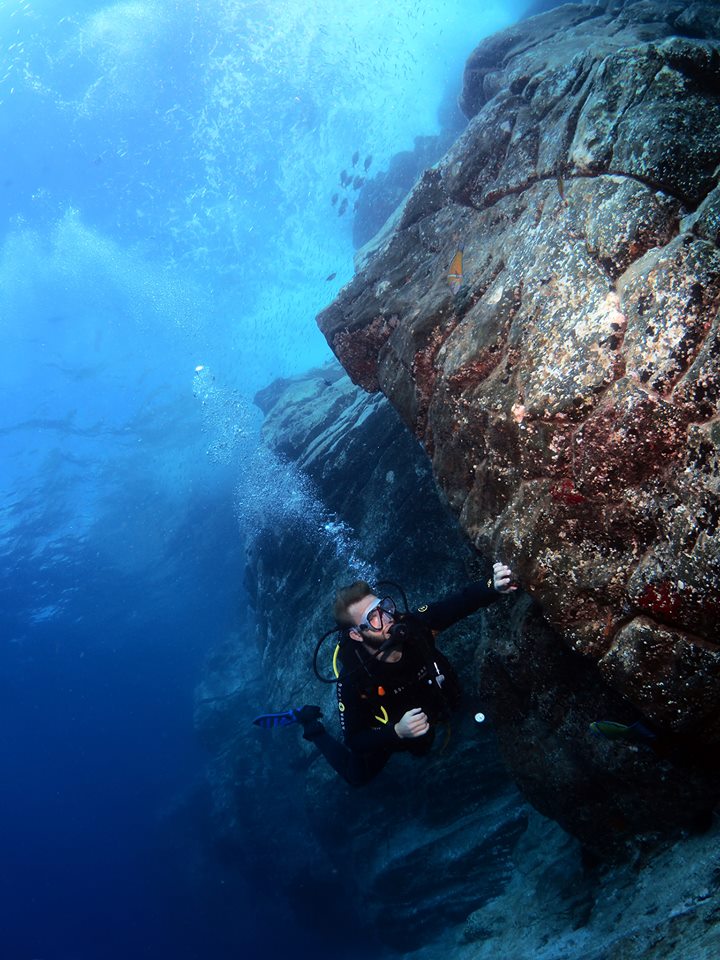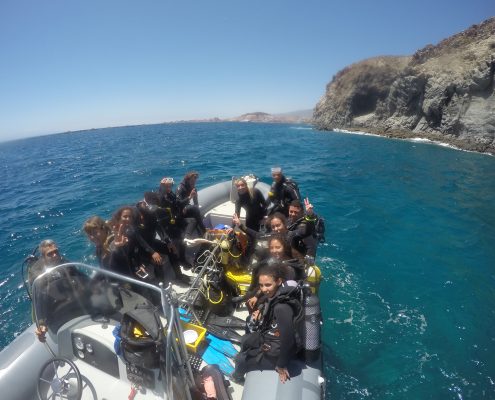 Why complete your Divemaster Internship with us?
One of the busiest dive centres in the Canary Islands
As stated previously, the principal benefit of completing the Divemaster training through an internship programme is the immense amount of hands on experience you will receive working alongside our experienced team of Instructors; catering for the needs of our guests.
Learning the theory and the practical skills is important, of course, but to really be a professional you need more than what can be learned from a book or a few sessions in a swimming pool. You need to know how to read and adapt to the people around you. Every guest who walks in the door is unique, with their own experiences and expectations. A successful professional will understand this and adapt to the person they are dealing with. During an Internship with us you will be interacting with dozens if not hundreds of these guests.
A team of 8 exceptionally experienced instructors
Our multinational team of instructors has a combined total of over 100 years experience in the diving Industry.  We have cut our teeth in a wide range of world-class dive destinations including – but not limited to – Indonesia, Egypt, Australia, Thailand, Costa Rica, Mexico, Malaysia, Malta, and the Philippines.  We are Instructors in recreational diving, not only with PADI but also with BSAC, SSI, and CMAS to name but a few.  Several of us are also Technical Diving Instructors, with experience in Trimix diving and Closed-Circuit Rebreathers.
Do you want to know what it's like to work on a livaboard? Maybe you need advice about working visas in Vietnam? Perhaps you have no idea just yet – speak to us: we've been there and done that and we will be glad help you on the way to your next adventure.  This wealth of knowledge is available to you all day, every day.
International contacts in the diving industry
Looking for work after you are qualified? We have contacts all throughout the Canary Islands and beyond (see above!!).  Furthermore we receive job applications on an almost daily basis. We know what prospective employers are looking for and we will help you to craft your CV and covering letter to appeal to the people who matter.
For those candidates who stand out from the crowd – the ones who apply themselves and hold themselves to the highest standard – we will gladly make recommendations among our contacts, wherever you chose to go next.
Diving Tenerife since 1999
Aqua-Marina was established in 1999, which makes us one of the oldest established dive centres in the Canaries. Throughout the last 19 years we have been diving Tenerife almost every single day.  In this time we have trained thousands of people to dive, and have issued hundreds of professional diving certifications.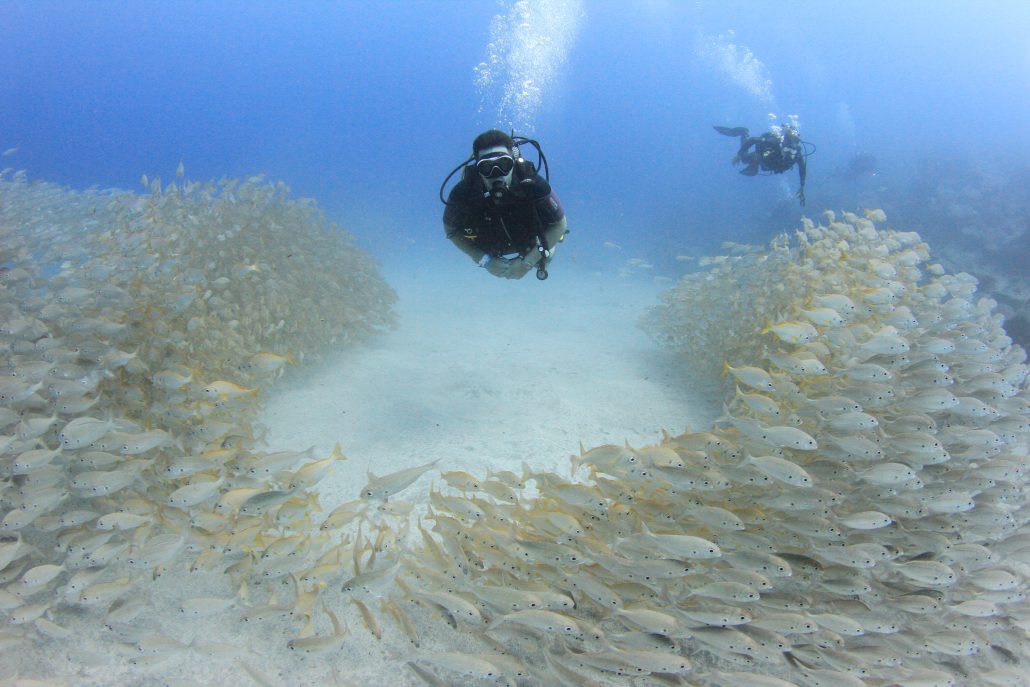 PADI Specialties that count!
A prepared, knowledgeable and versatile professional has skills and qualifications beyond their basic level of training.  There are a huge number of complementary qualifications which will benefit a professional diver.
The PADI Enriched Air Diver Specialty allows divers to extend their bottom time by reducing the amount of Nitrogen in their breathing gas.  This is an incredibly common qualification among recreational divers and so – we feel – it is a crucial qualification for a Divemaster to posses.  For this reason, anyone enrolled on a two- or three-month internship will receive training in Nitrox use for free.
The other common PADI Specialty which most affects the limits which your future customers can dive to is the PADI Deep Diver Specialty. Training as a Deep diver is also included in the two- and three-month internships at no extra cost.
Since some interns will already posses one or both of these qualifications whilst others will not, the certification fees for each of these specialties is not included. To receive recognition for the training we provide, interns will be charged just €50 per specialty.
Upon completing training in diving with Nitrox, Interns are welcome/encouraged to use Nitrox on their dives for free.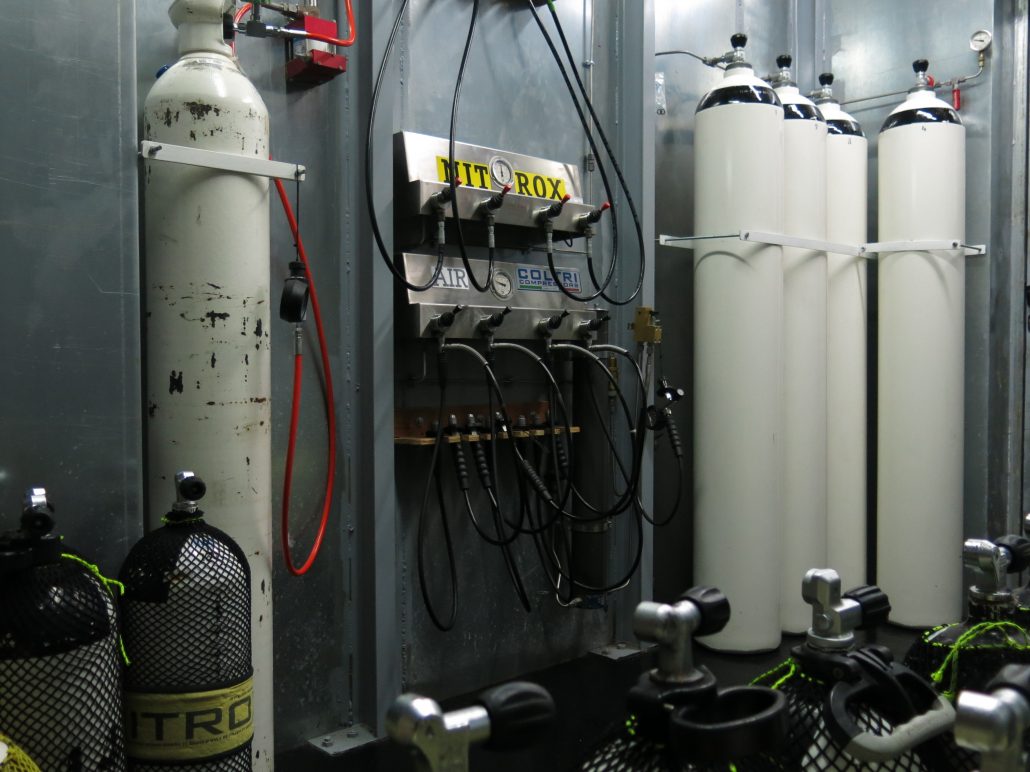 Additional complementary skills
As one of the few dive centres in Tenerife with our own Nitrox compressor, our interns not only get to dive with Nitrox on most dives, but will gain experience in operating both this and our Air compressor. There is also the opportunity to gain experience in our equipment maintenance workshop for those who are interested.
For those who wish to delve deeper into different diving disciplines and gain truly advanced knowledge and skills, we also provide PADI TecRec training up to Tec50, with further training in Sidemount, Tec-Sidemount and gas blending available. Please note that these courses are not included in the Internship, but will be available at reduced cost upon completing the internship programme.
Further training available
Although the following programs are not included in the Internship price, at Aqua-Marina you will have the option to qualify in Technical diving up to PADI Tec50. You can also become qualified in Sidemount Diving, and/or you combine these two interests and be qualified in Tec Sidemount.  A complementary skill to this is to also enroll in our DSAT Gas Blender course.
Languages
We cater to a varied mix of guests from around the world.  English is the primary language since it is the most universally understood.  To apply for our Internship you MUST have a reasonable level of English. If, however, there are ever any times where you require clarification on certain points in your own language, our staff speak Spanish, French, German, Dutch and Arabic.
Exclusivity
There are only ever 4 spaces available on this program at any one time.  You will be learning, living and working alongside others who are at the same stage as you; but you will not be lost in a crowd – by limiting spaces to 4 we can guarantee that our candidates get the most out of their available time with their Instructors and with our guests.
In the event that our boat is full and there is no space for you on a dive you will be given the opportunity to fun-dive at our local beach for free. We suggest you use this time to practice your basic dive skills to bring them up to 'demonstration-quality', or take turns acting as the guide for each other.  If you'd prefer to just grab your GoPro and film some fish then of course the choice is yours.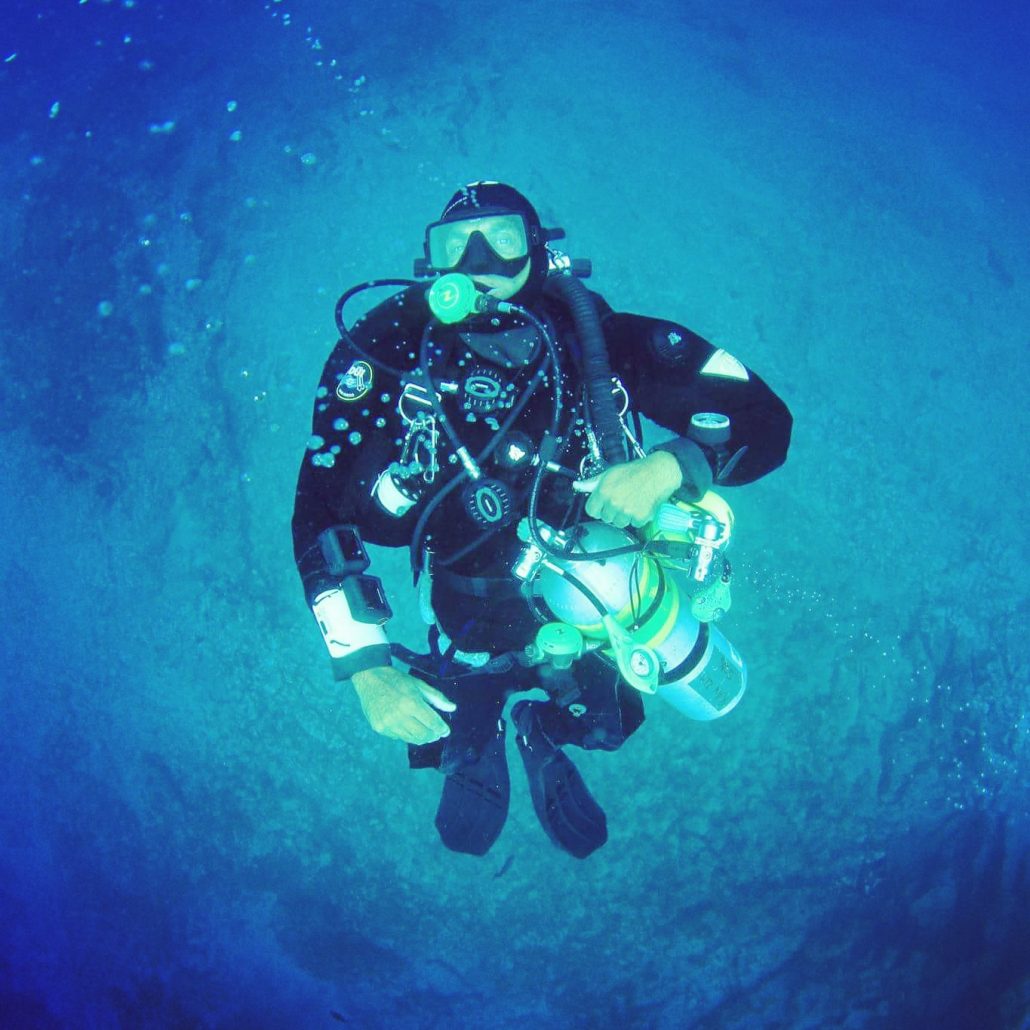 Work/life balance
You will be expected at the dive centre for 5 days a week, from 08:30 until 17:00.  Generally this will be Tuesday through to Saturday, although we reserve the right to change this should the need arise. In the event that your days off are rescheduled you will be given as much notice of this as we can provide.  In any case you will have 2 days off each week in order to explore Tenerife and engage in the almost endless list of outdoor activities available here. Or you can come diving – for free!
and finally…
El Médano
That´s where you'll be living.
El Médano is infamous on Tenerife! It's a small surf town very close to the main Airport.  Unless you opt to organise your own accommodation (which will reduce the price payable to us for your internship) then we will house you in el Médano where you'll have your own room in a shared apartment.
El Médano is incredibly desirable, principally because it is a mecca for wind- and kite-surfers.  Even if you are not into surfing (yet), el Médano draws people from around the world to enjoy it's unique and captivating atmosphere. You'll never struggle to find good company.
eLearning option
Get ahead of the game – complete Divemaster Course theory through PADI eLearning
Knowledge development of the Divemaster Course can now be completed through PADI eLearning, meaning that you can do this in your own time before coming to Tenerife.
This provides two significant benefits:
You will be better prepared to begin your training when you arrive,
You will not have to complete knowledge development in the evenings following a busy day at the dive centre.
This is not the cheapest option, however, as you will have to pay PADI for access to eLearning training materials.
There will still be other Training materials which you will need to purchase, which come packaged in the PADI Divemaster Crewpack eLearning.
eLearning is always recommended, but is not mandatory for the 8 week internship program.
Prices, Duration and Schedule
If you are already a Rescue Diver with 40+ logged dives
If you are Advanced Open Water (or equivalent) with at least 20 dives
If you do not have a Diving qualification yet
All internships commence on the 1st of each month.
If you arrive in Tenerife before a few days before the internship begins and require accommodation, please let us know. If your room is already available then you can move right in. If not we will try to arrange a few nights in a nearby hostel. The cost of extra nights accommodation is not included in the package.
If you fall somewhere between any two of the above statements (eg: Open Water with 5 dives, Advanced with 15 dives etc) then send us an email for a specific quote.  Prospective Divemaster Interns can complete any courses and dives required to meet the pre-requisites at greatly reduced rates.
We will happily break down the costing of our offer to illustrate this to you.
What's included?
Accommodation for the duration of your Internship in a private room in a shared apartment in el Médano
PADI Divemaster Crewpack, training and certification fees
PADI DSD Leader training
PADI Enriched Air (Nitrox) Diver Specialty training (certification not included)
PADI Deep Diver Specialty training (certification not included)
Dive Equipment for duration of internship (excluding dive computer)
Free use of Nitrox for those qualified to use it
Unlimited fun-dives when not providing activities for our guests
Free Wifi at dive centre
Tea, coffee and water at dive centre
What's not included?
Use of dive computer – we strongly urge you to own one. We can provide good entry level computers at competitive rates.
certification fee – PADI DSD Leader
certification fee – PADI Deep Diver Specialty (only €50)
certification fee – PADI Nitrox Diver Specialty (only €50)
Meals